HissenIT Crococrypt Product Family Status of 2021 (Quo vadis?)
Also upon some user requests, we describe the current status of our Crococrypt Product Family in 2021 which includes our file encryption software CrococryptFile and CrococryptMirror as well as the CrococryptLib SDK for secure password handling and easy-to-use password-based encryption in tailor-made applications. To cut it short: All programs are still in active development and you receive support!
In 2015, the first version of CrococryptMirror – at that time simply called "Crococrypt" – was published as freeware and later renamed CrococryptMirror. Founder Frank Hissen has a long background in cryptography and software development. He developed encryption and PKI-based solutions for large enterprises. Because of some limitations of existing programs, we used own 'scripts' (based in Java) for encryption in certain circumstances and also customer communication.

One day, the idea arose that these non-public solutions could be of public interest if a user interface would be built around them. That became CrococryptMirror. Soon afterwards, CrococryptFile was published as open-source and still is. CrococryptLib followed a couple of month later – being an easy-to-use (without previous knowledge) SDK for secure password hashing (Java – Client/Server/Android), password-based encryption and a couple of utils around that. The basis which all encryption components of the Crococrypt Family are built upon.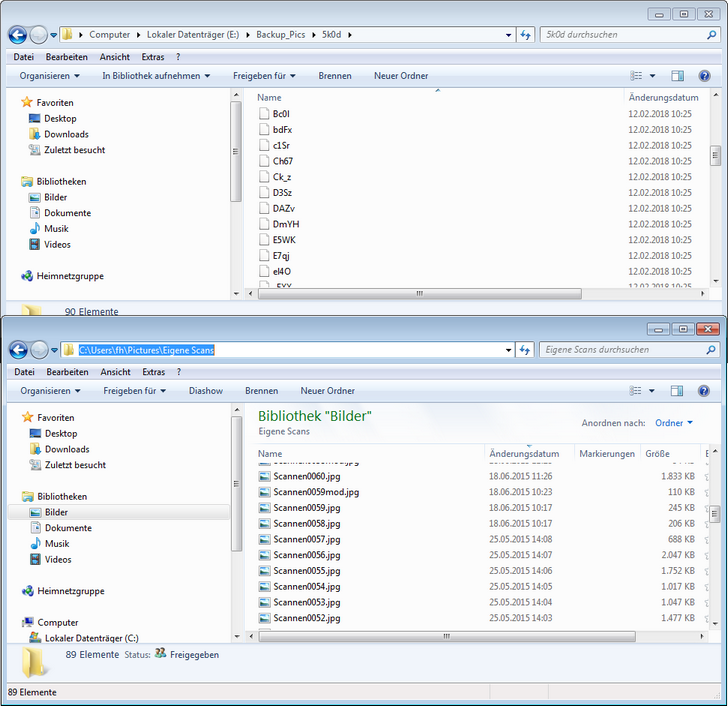 All applications of the Crococrypt Software Family still receive user support and software updates. Major feature updates are in the planning. However, since no considerable monetarization occurred and the development and maintenance is costly, customer projects have an understandably higher priority. In any case – we are still using all software ourselves and in customer projects. Hence, we have own interests in keeping all components up-to-date and running!
All desktop applications run on current Windows 10, Linux and server support is potentially there as well – even MacOS would be possible.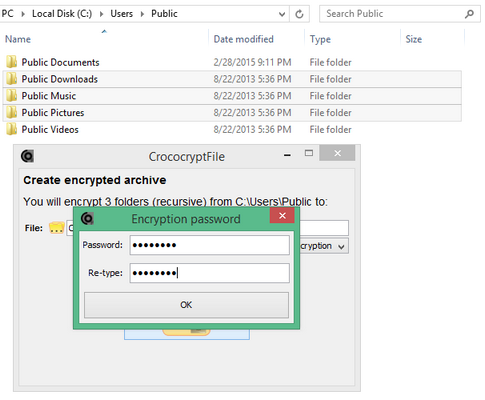 We never ran ads, we never included additional software. We do not track users or usage of any Crococrypt product and never required any registration. Hence, we do not even know how many active users there are. The only indication or estimate we have, are the download numbers from our own website and some other sites distributing our software. For instance, CrococryptFile has 7,500 downloads on Sourceforge (Current Statistics):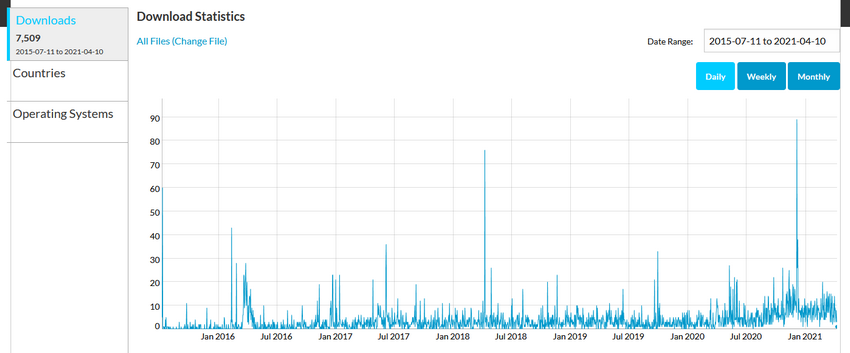 "Many thanks to the developer for such a tool for encrypting files and folders!" (Testimonial)
"Probably one of the best free encryption programs out there." (Testimonial)
"Very good and easy to use software. Plus it's free." (Testimonial)
Currently, about 50 new downloads a week (Sourceforge alone). Yes, no huge user community. Still...we have our fans which seemed to have found the solution they have been looking for. Thank you for your feedback over the years! This is also how a Russian language file got created for CrococryptFile.
More than just password-based encryption, e.g., RSA certificates / P12 / GnuPG
Encrypt files for multiple users
Sustainable, configurable password-based Encryption using multiple algorithms, e.g., AES-256, Twofish, ...
Fast Encryption of large files, no file size limit / maximum file size
Encryption of all file properties including filenames
Cloaked files without possible content analysis
Encrypted mirrors of whole directories
Publish to the Cloud, Network or USB drive
Shortening of directory names and filenames
Encryption of all file properties including filenames
Secure File Backup with fast, incremental Updates
Easy-to-use industry standard password hashing for everybody
Easy-to-use Password-based Encryption (PBE) including large streams for Java, Servers, Front-ends (REST, XML, Swing, JavaFX, SWT, Spring, ...) and Android

CrococryptMirror Pro was created as idea for (partly) monetizing the development. It is essentially always the next version of CrococryptMirror Free. In the future, maybe there will be further, specific commercial features. Unaffected by this is the further development and running support of the free version!
Many feature requests arrived us over the years, some very individual – some of interest for the community. To give the readers and the user community some impressions what could be done, even on the enterprise-level, we describe a couple of requests and own ideas shortly in the following.
General: Secure Delete / Wipe function
General: Integrating Keyfiles. Although, e.g., PKCS12 files under Windows and GnuPG can be already used, general/native keyfile support would be great for different formats.
General: File filters. Additional mode to exclude/include files with certain filename patterns
General: Password Manager to reuse passwords during runtime, plus using multiple passwords on single archive
General: Dynamic File Viewer
General: UI enhancements
General: Mobile support
General: Additional crypto algorithms, e.g., Argon2, Threefish1024, Skein1024
Enterprise: PKCS #11 support, hardware token / smartcard drivers
Enterprise: Better support of groups, e.g., through LDAP/Active Directory Certificate Support
Enterprise: Digital Signatures
Enterprise: Server support (aside WebDecrypt) and/or SMB/CIFS support
General: Password Manager to reuse passwords during runtime
General: File filters. Additional mode to exclude/include files with certain filename patterns
General: UI enhancements
General: Plaintext mode (backup/scheduled mirror)
General: Mobile support
Enterprise: PKCS #11 support, hardware token / smartcard drivers
Enterprise: Better support of groups
Enterprise: Server / Cloud support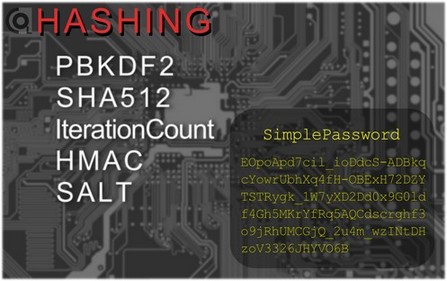 Easy-to-use Public-Key Encryption and Signatures
PKCS #11 support, hardware token / smartcard / HSM drivers
We also feature content on YouTube: Homepage
We have also created a new and single location for all Crococrypt Products: Homepage
HissenIT is a small business focusing on software development and security consulting - offering special services from experience in IT security, web application security and encryption solutions.
Encryption Software, File Encryption, Freeware, Open-Source, Enterprise Software, Cloud Storage, Strong Encryption, Password-based Encryption, PKI, Token-based Encryption, AES, AES-256, RSA, X.509v3 Certificates, Hardware Security Module
Categories: News
---
Post your comment
Share
If you like this page, it would be a great thing if you share it with others: