HissenIT Stammdaten ist Freeware. Es ist kostenlos, frei von Registrierungen oder Aktivierungen und ohne Werbung.
Als Sprachen werden Deutsch und Englisch unterstützt.
Aktuelle Virenwarnungen
Es kann vorkommen, dass einzelne Antiviren-Programme Anwendungen unberechtigt als Malware erkennen. Diese Meldungen sind sogenannte "False Positives". In solchen Fällen erhalten Sie fälschlicherweise eine Warnmeldung, weil ein Binärmuster in der Datenbank Ihres Antiviren-Programms mit einem zufälligen Muster in einem unserer Produkte übereinstimmt.
Sie können einfach selbst überprüfen, ob es sich in der Tat um eine Falschmeldung handelt, indem Sie unsere Seite oder Software beispielsweise bei VirusTotal selbst überprüfen.
Falls Sie von einem solchen Fall betroffen sind, informieren Sie uns bitte einfach kurz per E-Mail. Wir versuchen mit dem Hersteller in Kontakt zu treten. Dieser Vorgang kann jedoch einige Zeit dauern.
Aktuell liegen uns keine Warnmeldungen vor.
Windows 10 Installationsproblem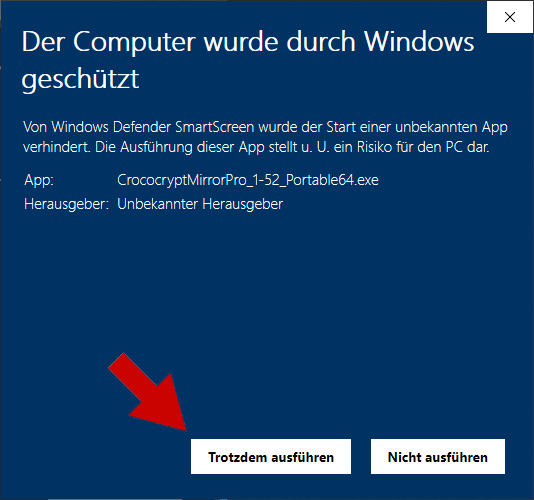 HissenIT Stammdaten läuft auf allen Windows-Versionen von Windows XP bis Windows 10.
Das Installationspaket enthält einen Uninstaller, der die Software bei Bedarf wieder vollständig vom System entfernt.
Vollständiger Installer (keine Systemanforderungen)
HissenIT Stammdaten
1.0 (Setup)
1.0 (30.04.2017):
This software is freeware and provided 'as-is', without warranties or conditions of any kind.
In no event unless required by applicable law or agreed to in writing will the author be liable to you for damages, including any general, special, incidental or consequential damages arising out of the use or inability to use the program (including but not limited to loss of data or data being rendered inaccurate or losses sustained by you or third parties or a failure of the program to operate with any other programs), even if such holder or other party has been advised of the possibility of such damages.
In no event will the author be held liable for any damages arising from the use of this software.