WordpressSSHBackup easily creates a local backup of a Wordpress installation using an SSH connection. The only prerequisite is of course an SSH account at the server/host.
The tool copies the configured root folder (recursively) with scripts and files (images etc.) as well as the MySQL database.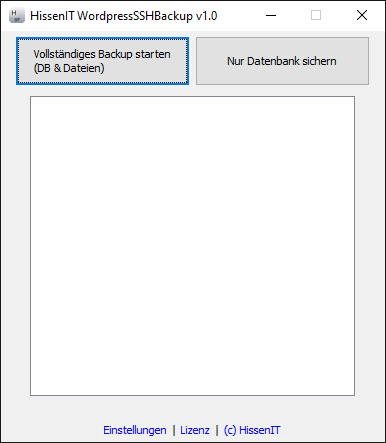 This backup software can also be applied to backup other hosted systems, e.g., Content-Management-Systems, shop systems etc. based on a MySQL stack. It is also possible to only backup the files or the database.
The backup is implemented scripting the system commands tar and mysqldump which result in an ZIP archive of the files & scripts as well as an SQL dump of the database.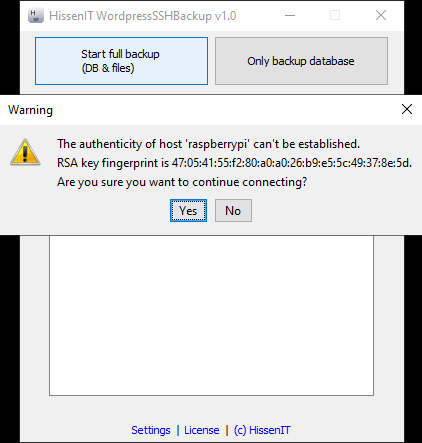 This tool is for small enterprises which could / have not taken care of an automatic backup, yet. At least before updates, but better on a regular basis, a hosted system should be backed up locally. HissenIT WordpressSSHBackup is an easy and quick solution for this – as a simple Windows program.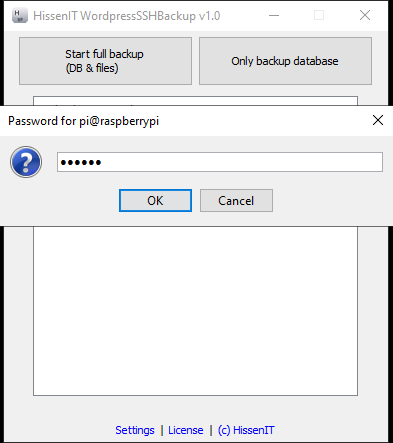 Even in the Cloud, a total loss of your own data is not completely impossible. A local backup, which can also be used for a complete fresh install or switching to a new provider, gives a little extra safety.
WordpressSSHBackup
1.0 (EXE Unzipper)
v1.0, 06/07/2021
License (c) 2021 HissenIT

This software is provided 'as-is', without any express or implied warranties or conditions of any kind. In no event will the author be held liable for any damages arising from the use of this software. This software is an individual / custom-made solution and requires proper usage of the licensee.
You may not distribute or redistribute this software! Violation of this license may leed to legal steps and compensation claims.

**** Third-Party Software Components ****
JSch 0.0.* was released under the GNU LGPL license. Later, we have switched over to a BSD-style license.
------------------------------------------------------------------------------
Copyright (c) 2002-2015 Atsuhiko Yamanaka, JCraft,Inc.
All rights reserved.
Redistribution and use in source and binary forms, with or without modification, are permitted provided that the following conditions are met:
1. Redistributions of source code must retain the above copyright notice, this list of conditions and the following disclaimer.
2. Redistributions in binary form must reproduce the above copyright notice, this list of conditions and the following disclaimer in the documentation and/or other materials provided with the distribution.
3. The names of the authors may not be used to endorse or promote products derived from this software without specific prior written permission.
THIS SOFTWARE IS PROVIDED ``AS IS'' AND ANY EXPRESSED OR IMPLIED WARRANTIES, INCLUDING, BUT NOT LIMITED TO, THE IMPLIED WARRANTIES OF MERCHANTABILITY AND FITNESS FOR A PARTICULAR PURPOSE ARE DISCLAIMED. IN NO EVENT SHALL JCRAFT, INC. OR ANY CONTRIBUTORS TO THIS SOFTWARE BE LIABLE FOR ANY DIRECT, INDIRECT, INCIDENTAL, SPECIAL, EXEMPLARY, OR CONSEQUENTIAL DAMAGES (INCLUDING, BUT NOT LIMITED TO, PROCUREMENT OF SUBSTITUTE GOODS OR SERVICES; LOSS OF USE, DATA, OR PROFITS; OR BUSINESS INTERRUPTION) HOWEVER CAUSED AND ON ANY THEORY OF LIABILITY, WHETHER IN CONTRACT, STRICT LIABILITY, OR TORT (INCLUDING NEGLIGENCE OR OTHERWISE) ARISING IN ANY WAY OUT OF THE USE OF THIS SOFTWARE, EVEN IF ADVISED OF THE POSSIBILITY OF SUCH DAMAGE.

Wordpress, PHP, MySQL, Shop System, Shop Software, Linux, Database, Backup, Hosting, LAMP, Management, Updates, Crash, prevent