CrococryptFile still in active development - Wipe function and more in preparation
With this quick post, we wanted to let users know that CrococryptFile is still in active development. We are busy with other (commercial) projects, hence, CrococryptFile has to wait a little bit for its new version. The new version will include the often requested wipe function, to securely delete encrypted files.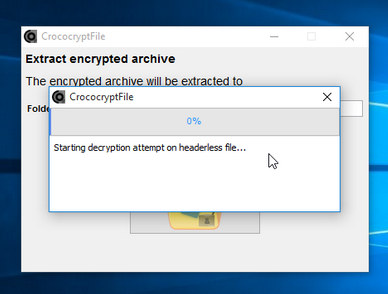 We see that this is a meaningful extension to CrococryptFile's original functionality because it creates new use cases.
File Encryption with many applications - including File Backups
CrococryptFile is a file encryption software which can create large encrypted file archives using, e.g., AES-256 or Twofish-256. Besides password-based encryption also Windows RSA tokens or PGP keys can be used. Helpful when exchanging data in groups.
Moreover, CrococryptFile can also be used as backup software. For instance, it provides the possibility to upload private data as large cloaked / unknown binary archives into Cloud storages.
About
HissenIT is a small business company from Germany focusing on IT software development, programming and consulting. Founder and computer scientist Frank Hissen has over 24 years of experience in various positions in IT projects - today offering special services from experience in IT security, web application security and encryption solutions.
Keywords
File Encryption, Backup Software, File backup, Cryptography, Encrypted file archives
Categories: News IT Security
---
Post your comment
Share
If you like this page, it would be a great thing if you share it with others: