HissenIT: Information Technology Consulting and Software Development
We offer individual / tailor-made Software Development services. Our software is based on our cost-efficient Development Framework.
Moreover, we offer our own software products - both commercial and free/open-source, e.g.:

EDP, Informatics, Computer Science, IT
Due to our long-time experience in complex IT projects and our computer science background, we always work with sustainability in mind. Hence, the solution we develop for you is usable, manageable and long-run fit for the future.
With our services, we support your business processes as well as your product development. No matter if your company is from the IT sector or is simply using IT to support your business case.
Solutions, Consulting, Training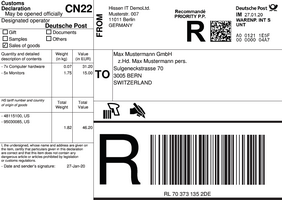 We develop solutions on our own or counsel and offer consulting of other external development. We always act neutral and from your point of view, totally independent of other service providers or manufacturers. With individual/online Trainings and Coachings, we try to teach complex issues, so you yourself or your employees can act sustainably and independently.
During our years of project work, own standard solutions and concepts have matured which we can use when required. For instance, we offer standard software like in the e-commerce sector the HissenIT Desktop-Postconnect for CSV-based order uploads for shipping labels of "Deutsche Post".
Our customers benefit in everything we do from our longtime experience in the are of IT security. We have fundamental background knowledge about secure software programming, secure operation and security processes that are truly usable. Individually developed software for you will always be sustainable.
Moreover, we offer online training courses in the area of IT security. In the following, we explain "Why should we encrypt data at all?":
- You can maximize the video by clicking on the maximize button in the video controls -