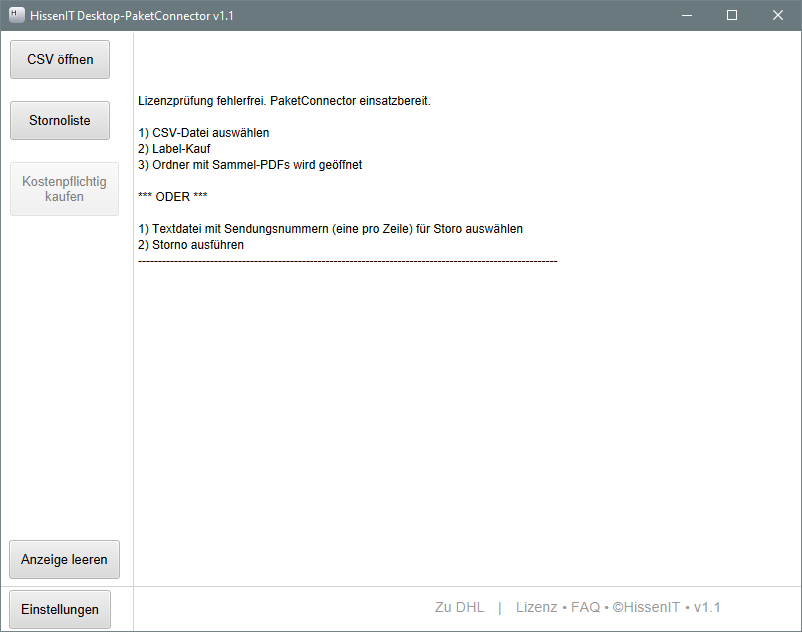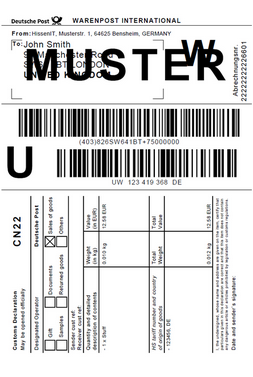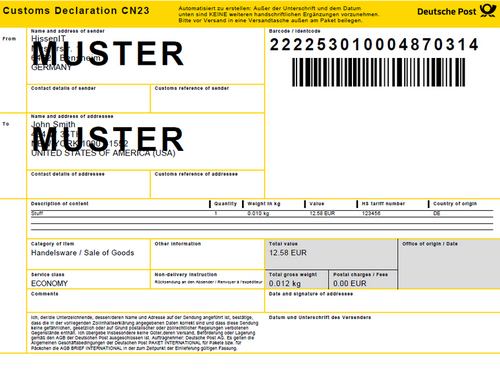 If you do not want or require a custom-made interface to your online shop or your ERP system but provide order data as CSV or Excel files, you can use the desktop software "ParcelConnector". With an easy format of combined address and customs data for each shipment in a single row of the CSV file, you are ready to connect to the DHL backend and automate buying harmonized shipping labels.
Interface with PDFs/PDF Download directly from DHL instead of printing software or manual shipment order
Offline preparation of shipment data
Minimizing outages, failures and interruptions
As desktop application for Excel/CSV export or programmable interface with, e.g., database integration
Shipment numbers and barcodes of labels also easily saved into the CSV/XLSX
Easy CSV-based cancellation of labels
Contact us, if you use a different CSV format. Maybe a

free of charge

integration is possible
Features
In brief: DHL shipping products (parcels, goods, German and international), label purchase as PDF download including customs declaration (CN22, CN23), automatic collection regarding label type, shipment number mapping, cancellation, notification and insurance feature etc.
At the end of the ordering work flow, a local folder is created with each label PDF but also a giant, merged PDF containing all labels as well as a CSV / XLSX report file.
Since version 1.7 an additional tabular customs declarations format is supported (Sample file: PaketConnector_CustomsTable.xlsx) and using the folder "label2invoice", every single shipping label including customs declarations is stored using the according invoice number - in case invoice numbers are used:

These can be used for easy archiving (e.g., for tax audits) or for using automated printing solutions.
By the way: CSV files can be easily opened, created and exported from Excel or using OpenOffice/LibreOffice! With update v1.6 *.xls/*.xlsx files are supported directly! Also, an individual database connection to your system(s) can be achieved.
In the following, you can see samples of the required CSV / XLS file format as well as the resulting CSV / XLS that is written during the purchase:
You can check out and validate the software using the free demo version. You only require a business account of the DHL portal.
Contact us if you use one of the following shop systems or others. We also check your eBay, Amazon & Co account if the required CSV export can be created.
Afterbuy
PrestaShop
WooCommerce
Shopware
JTL-Shop
Magento
Oxid
Joomla
Shopify
Strato Webshop Now
Jimdo
Gambio Shopsoftware
xt: Commerce
shops-mieten
...
After successfully purchasing shipping labels, the barcodes (or tracking codes) are written back to the CSV / XLS file, so an automated further processing is possible!
Supported Label Formats
For an overview of supported label formats (e.g., 910-300-400, 910-300-700) with sample PDFs take a look at this ZIP archive collection.
Work flow:
*** English Screenshots ***
Main window and flow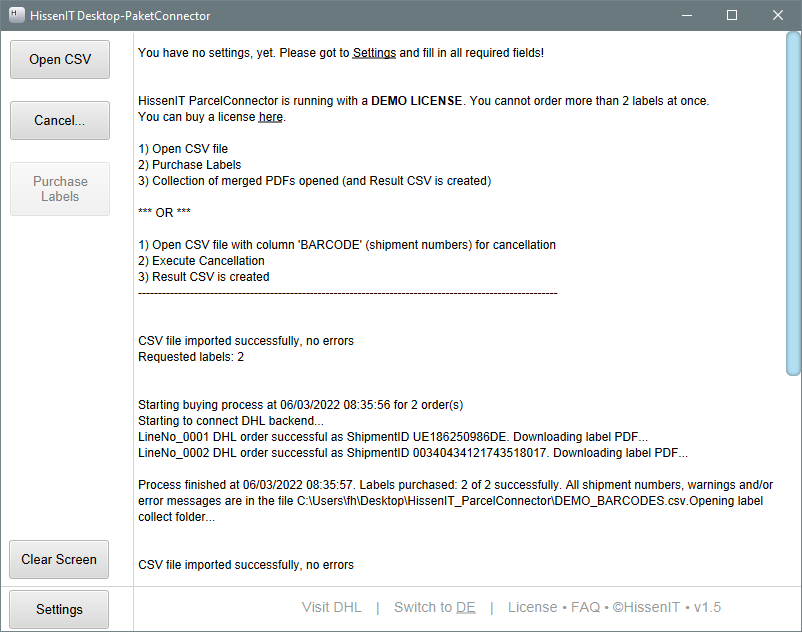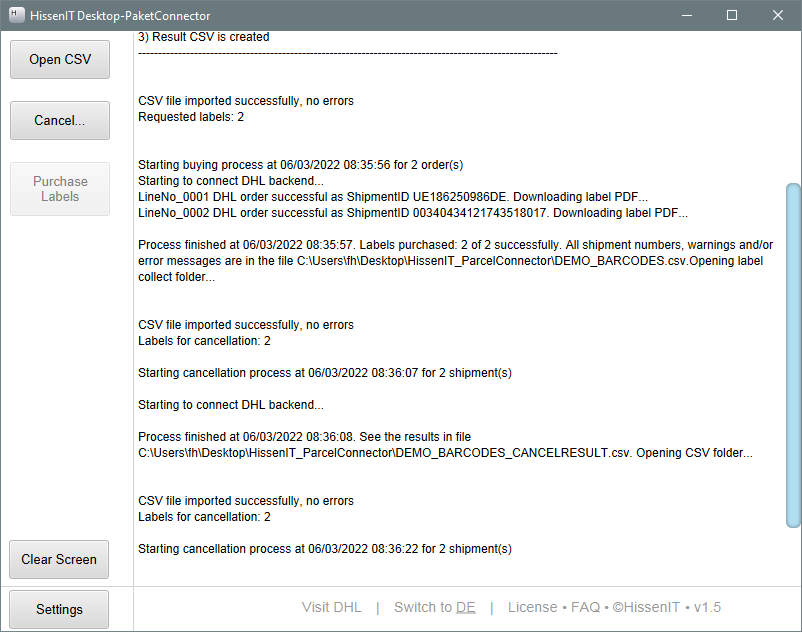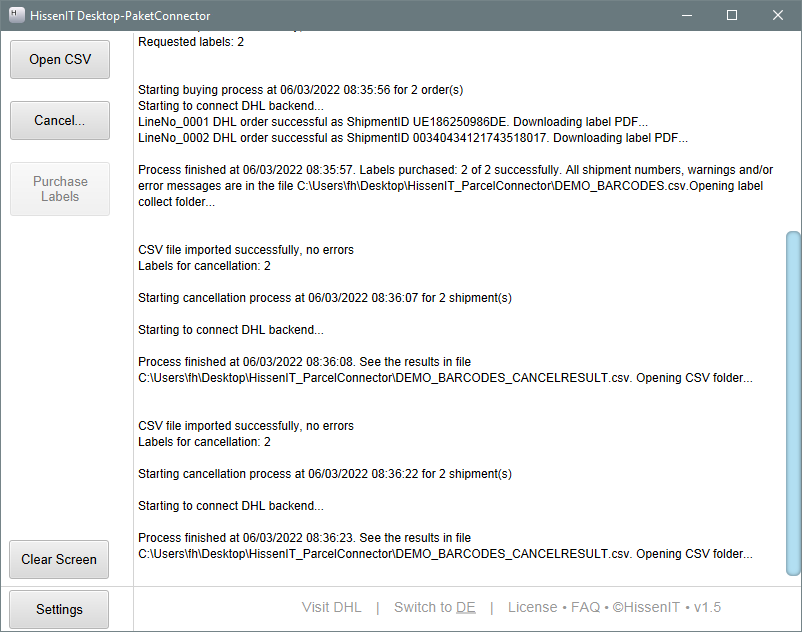 CSV including status information after second cancellation attempt (labels already cancelled)

*** German Screenshots ***
Settings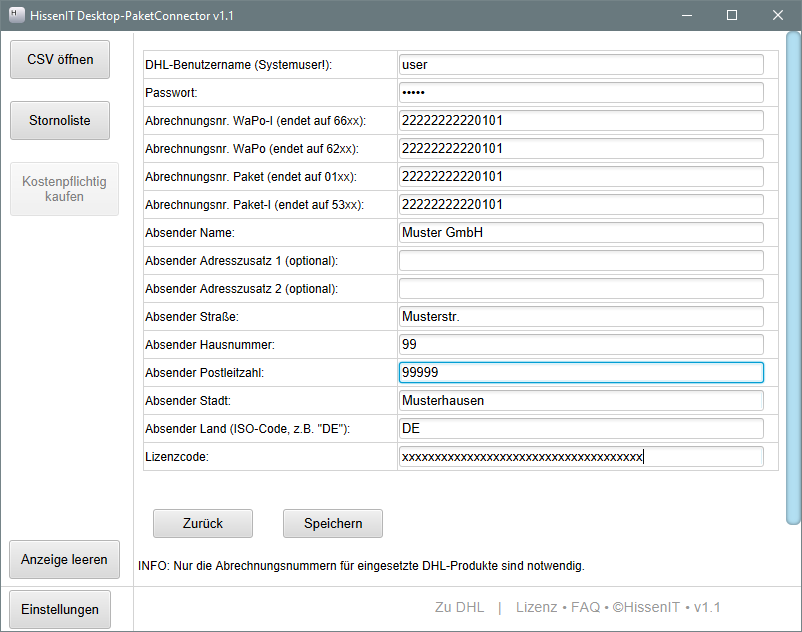 Main window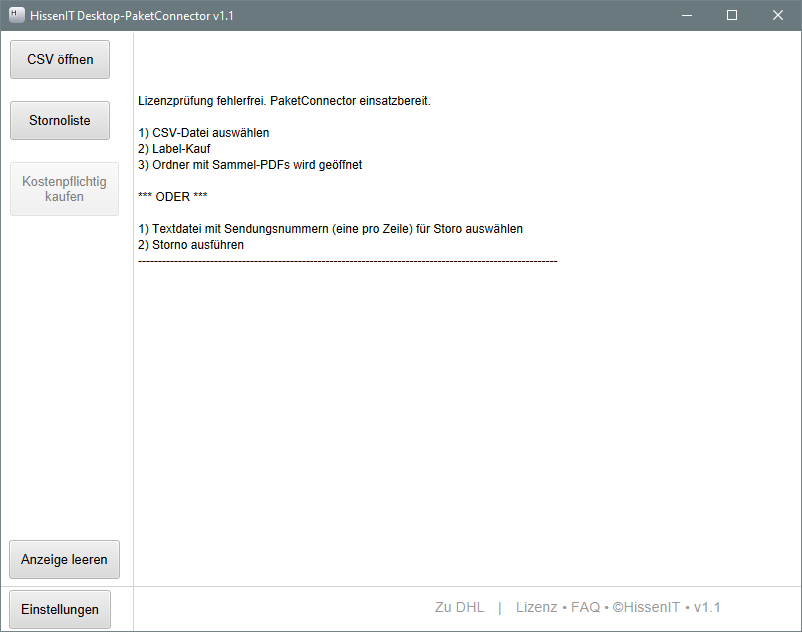 Prepared CSV File with Customs Declaration per Item

Reading the CSV
Purchasing Process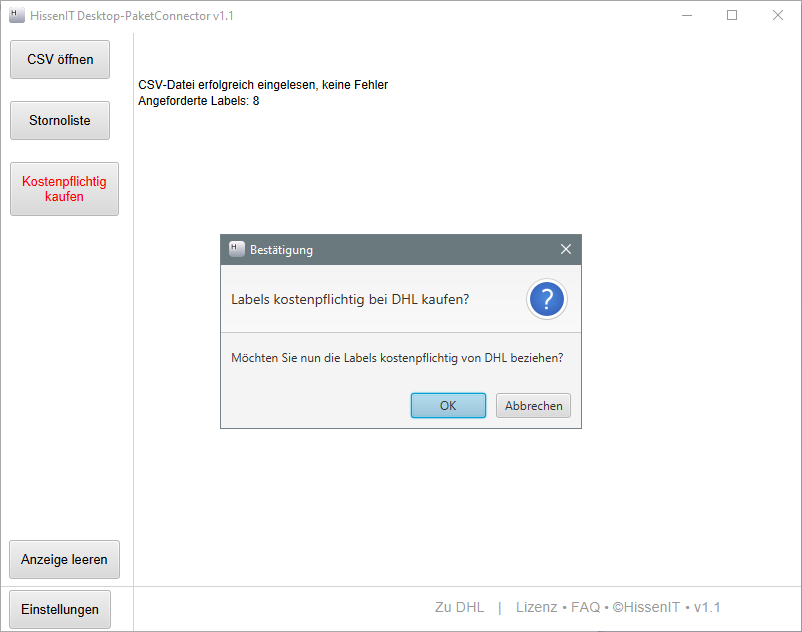 Purchase and Download finished - Main window
Collected/Merged Label PDFs

Shipment numbers in CSV

License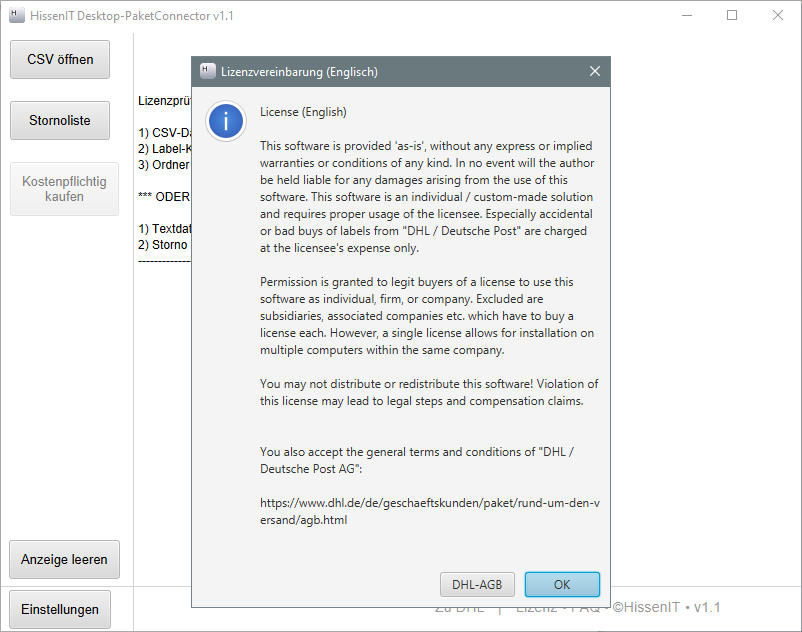 ---
Keywords
DHL/Post, CSV Upload Import Export, Download PDF, Labels, International Parcels, XLS/XLSX/Excel2DHL, Packages, Packets, Dispatch of goods, German Warenpost, Deutsche Post DHL Group, Deutsche Post, Excel Import, Upload, Harmonised Labels, Harmonized Labels, Logistics, Online Shopping, Online business, E-commerce, Returns, WaPoI, WaPoI EU, Customs Declaration, CN22, CN23, International Shipping, DHL Easylog, eBay Import, Shopping, e-Commerce, Logistics, Data Import, Data Export, Data Exchange, Automated, Automation, Database connection, Access, XML, JSON, Windows, Server, Software