This software is provided 'as-is', without any express or implied warranties or conditions of any kind.
In no event will the author be held liable for any damages arising from the use of this software.
Permission is granted to anyone to use this software for any purpose, subject to the following restriction: You may not distribute or redistribute this software without permission.
CrococryptMirror is available in English and German. All languages are included in a single installer.
Downloads for Windows (Freeware)
All Windows versions since XP and above are being supported.
CrococryptMirror 1.43
Setup, 64Bit CrococryptMirror Portable 1.43
Self-extracting, 64Bit

CrococryptMirror 1.43
Setup, 32Bit CrococryptMirror Portable 1.43
Self-extracting, 32Bit
The 64bit version is generally faster than the 32bit version.
Explorer View/WebDav using Windows 10: The Windows 10 "Creators Update" from 2017 caused a problem with the WebDav access of local URLs. This was then fixed by Microsoft. In case the Explorer View causes problems on your system, please make sure your Windows system's update/patch level is up-to-date.
Windows XP users: The WebDav-based Explorer-view works only limited under XP. By default CrococryptMirror opens the system browser to view the container. If you prefer to view the container within the Windows Explorer, you have to setup the corresponding WebDav connection on localhost via the given URL: Go to "My Network Places", click "Add new resource" and provide the URL in the following format "http://localhost:423x" (x depends on the container).
The URL used for the WebDav-based Explorer-view also works in every local Web browser (e.g., Firefox) and allows a different way of browsing through your containers.
Windows "God Mode": The so called "God Mode" is causing unsolvable errors, unfortunately. These can partially cause CrococryptMirror to crash without comment. Hence, this special Windows setting can currently not be supported.
Current AV Warnings
From time to time products of the Crococrypt Product Family are detected by individual antivirus software products as malware. These messages are so called "false positives". In such cases, you receive a warning by mistake because some binary pattern in the heuristics database of your antivirus software matches some random pattern in our product.
You can always verify that it is indeed a false warning by using, e.g., VirusTotal to scan our website or software. Sometimes even the whole website might be listed as malicious by SINGLE services.
If you are affected by such a case, please inform us via e-mail. We have and will correspond with the respective AV manufacturer which usually updates its virus pattern database.
The are no known warnings at the moment.
Windows 10/11 Installation Issue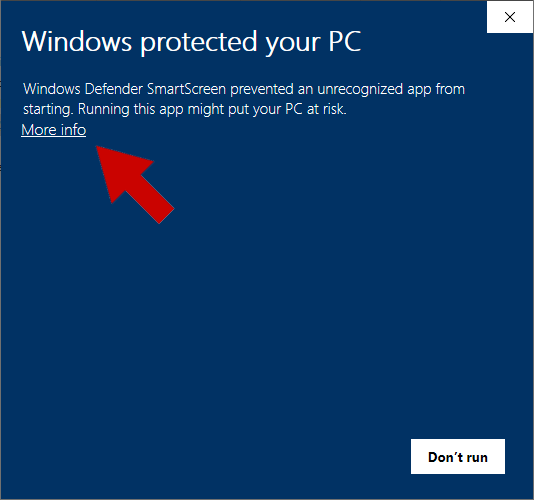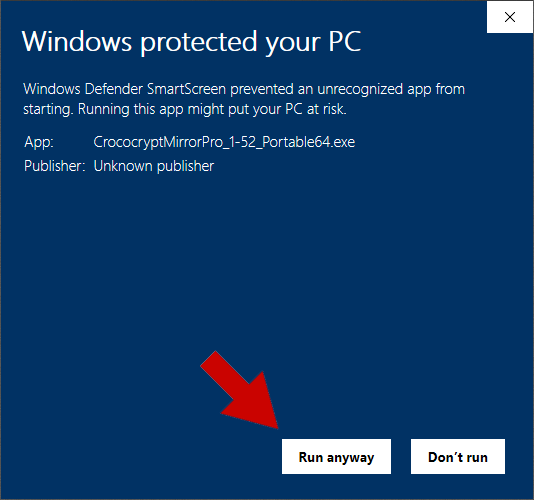 Also, warnings when downloading in browser are possible: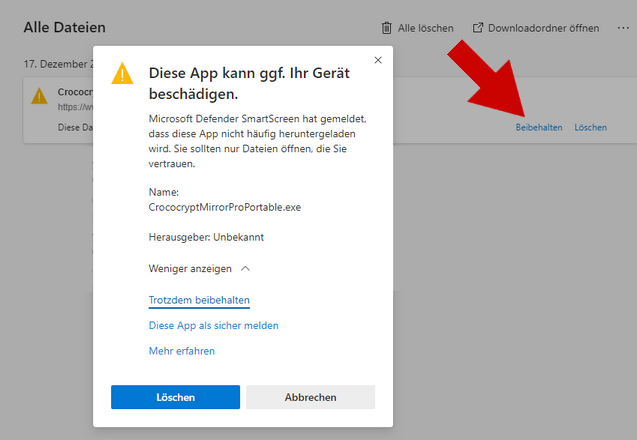 1.43 (11/10/2020):
Fix: Minor fixes for Win10
1.42 (02/01/2020):
Fix: Auto-Sync-Service fixed for Windows 10 which failed in some circumstances (manual syncing will definitely sync all files!)
1.41 (04/01/2018):
Fix: Due to a problem with Windows 10, the Explorer View could not work properly (through WebDav). Please also note the general information above regarding WebDav.
1.4 (01/10/2017):
New: Password change function added (see tab "Files")
New: As requested by many users, now, you can provide the password through a command-line option. Although not recommended, to provide your password in a script etc. you can use the following launch parameter: CrococryptMirror.exe /pw PASSWORD. This can also be used to "save" the password.
Fix: Windows symlinks/junctions are no longer followed. The previous behavior could cause race conditions.
Fix: Stability and performance improvements regarding source file read errors
1.3 (02/22/2016):
A new icon was added to clearly distinct between the Crococrypt product family
All setups are now clearly named CrococryptMirror-*
Fix: Performance improvement due to an internal buffer which was too small. In some cases, the data transfer rate could drop to 1 MB/s (e.g., on exFAT).
New: There is a new button to batch sync all existing containers at once.
1.2i (02/10/2016):
Fix: This is a minor security update because of a NSIS installer security fix (Windows-Setup only). The application has not changed.
1.2 (01/18/2016):
Support for 32Bit-Windows added
Small bugfixes, especially: Under unclarified circumstances, it could happen that no file dialogs appear. This is fixed now.
1.1 (07/20/2015):
Rebranding: This is the first version which includes the new naming convention "CrococryptMirror"
Minor bugfixes for more stability
1.0 (03/26/2015):
Bugfix: Special characters or non-ASCII chars in the container path prevented the synchronization.
Enhancement: Existing and to be imported containers, now, do not require an existing source folder. Hence, decryption and Explorer view work without source.
Enhancement: If the manual synchronization is not finished, now, a message box appears when clicking the sync button again.
0.9b (02/26/2015):
---