HissenIT ParcelConnector to easily integrate DHL Shipping Solutions published
Using the solutions "ParcelConnector" and "Desktop-ParcelConnector" companies can integrate the purchase of DHL shipping product labels including customs declarations into their own sales process.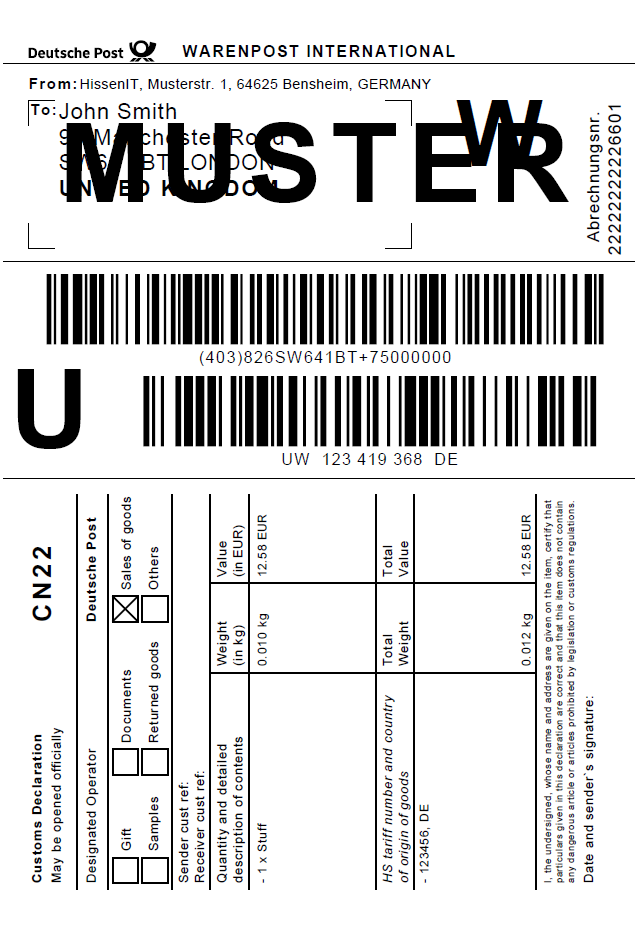 DHL: PDF-based, Full Integration or CSV Upload/Import
Besides the complete integration into ERPs / online shops for seamless processing and storing shipment numbers and PDF labels, there is also an easy-to-use DHL CSV-based upload solution. Automated cancellation of shipments in case of errors etc. is possible as well.
Realizing the full integration into customer systems is done by aligning to the ERP or databases directly. Furthermore, (semi-)automated address checks are also possible which can be important when importing data from third parties or user entries.
The shipping labels are directly created by the "DHL Business Customer Shipping API" and hence always follow the current state of requirements for international shipping labels. No further software is required. Nevertheless, shipments can be verified and viewed within the DHL portal like created manually.
The downloaded PDF labels are stored label by label in a single file – as well as merged into a single PDF per label type / format. Hence, bulk printing by using your favorite PDF viewer is easily possible. The same is true for customs declarations CN23. This way, purchased label PDFs can also be archived easily.
If interfacing with ERPs or databases is not required but order data is created using the CSV file format, the simple Windows software "Desktop-ParcelConnector" can be used to exchange label orders. Shipment / tracking numbers as well as potential error messages are stored in a response CSV. This file can also be used to easily cancel shipments.
The only prerequisite is an account at the DHL Customer Portal. "Desktop-ParcelConnector" can be tested without registration – simply download it. The demo version allows to handle 2 labels at a time.
Further Information: "ParcelConnector" and "Desktop-ParcelConnector"
About HissenIT
HissenIT is a small business focussing on software development for small and medium sized companies. The portfolio includes individual automatization, e.g., for invoice printing, mailings, data import/export (Paypal, eBay, shop systems in general) and interconnecting systems. Use cases are item updates (prices, inventory) or tax exports.
DHL/Post/Parcel, Shipment of Goods, Excel/CSV Import Upload Export, PDF Label, Harmonised Labels, CN22/CN23, Online Retailers, Small and Medium Companies
Categories: News
---
Post your comment
Share
If you like this page, it would be a great thing if you share it with others: