HissenIT reaches over 15,000 Online Students on e-Learning Platform Udemy
Over 700 worldwide reviews, with course ratings of 4.3 in average out of 5.0 of all courses (and I am working on it). At the moment, seven courses about IT Security Management, Secure custom Development, Cryptography and Encryption (English/German). Individual Coachings, Topics or online Seminars are possible as well. Courses can be licensed in other formats, like SCORM, for enterprise and offline use.

I started to give seminars in real life straight after graduation, kind of by accident. That was over 15 years ago. Thanks to the Internet, today I can reach people all over the world. I offer a mix of free and paid courses which is a common concept today.
Thanks to Udemy, one of the biggest e-learning platforms of the world! Recently, I also started a YouTube Channel, let's see where this will go.
Courses I am currently offering (more to come):
IT Security for Project Managers: About implementing security in IT(-related) projects properly – A Guideline
Secure Programming of Web Applications - Developers and TPMs (English/German)
Introduction to Encryption - Terminology and Technology (English/German)
Java Cryptography Architecture: Secure Password Hashing
File Encryption Basics and Practices with CrococryptFile (free course)
For SCORM and other licensing or individual Coaching sessions just contact me.
We also created a new IT Training section and will offer and self-publish courses, seminars, books and other material in the future.
Course Statistics and Reviews
I am still fascinated how international everything became so quickly. English speaking courses of course have a major customer base in the USA (~23%) but over 60% in all other parts of the world. Aside from a big cluster in India, all other countries with a similar small proportion: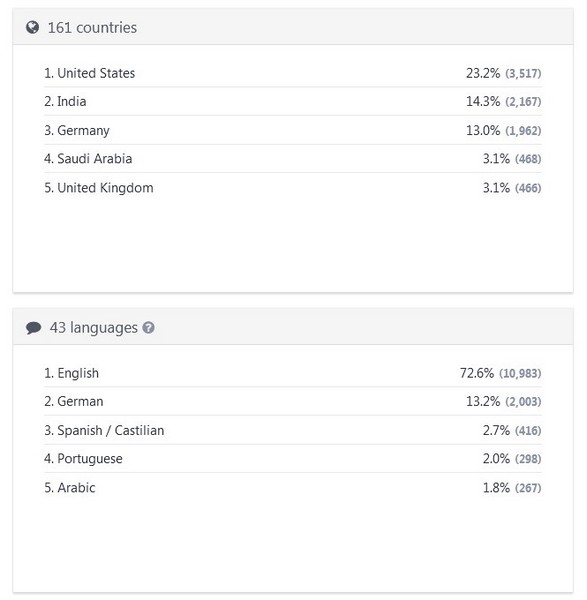 When you offer material publicly, you quickly learn that you cannot please everyone. However, the overall ratings hold up. Of course, I know there is always room for improvement. That is also a matter of time to do it.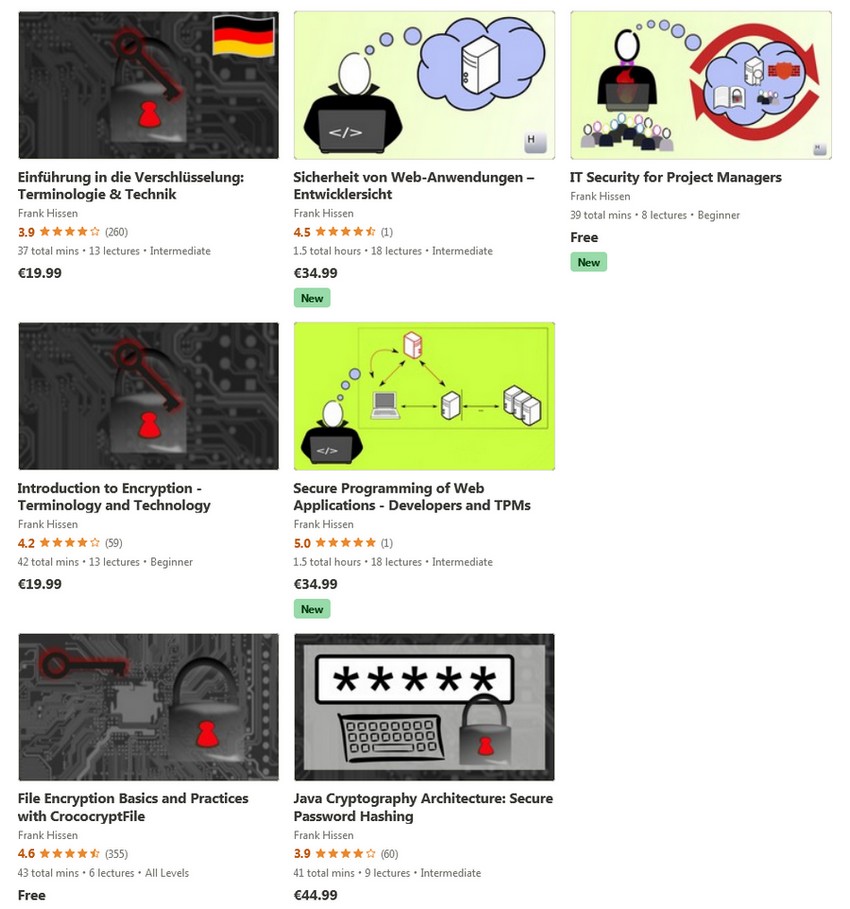 Thanks to my students for all the support!
"I see this SPOT ON course. This course will teach developers such as myself and you ;) how to protect ourselves from potential hacks to our sites."
"Good course to learn the basics of encryption."
"Great course."
"Described encryption in simple word and simple examples"
"For someone who has little or no understanding of the encryptions mechanism and jargons around it should definitely go for this course."
"Good Course. Instructor is very good. Very explanatory and very good course for beginners and also for mid level professionals."
About
HissenIT, is a small business focusing on software development and security consulting - offering special services from experience in IT security, web application security and encryption solutions.
Keywords
online courses, training, it training, it security training, security awareness, hackers, system attacks, secure programming, it security management, information security, webinars
Categories: News
---
Post your comment
Share
If you like this page, it would be a great thing if you share it with others: