eBay Solutions: Shop and ERP Connector / Lister / Middleware
With the HissenIT ERP Connector, we support the connection of eBay to your merchandise management system, store/shop system, etc. Integration takes place via the eBay API. The following processes can be executed, among others: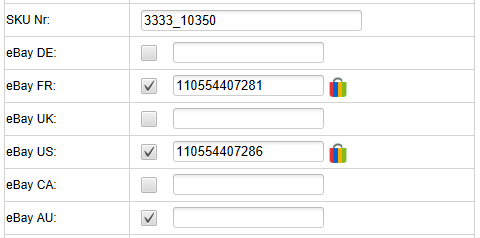 HissenIT ERP eBay View
Generation of offers/listings
Order import
(Mass) updating of existing listings
Stock and price adjustment
Article/Item Backup
etc.
Parameterized sources, such as plain text or HTML templates, can be used to generate item descriptions/item details. Translation aids can also be used to access international eBay marketplaces.
The easiest way to do this is to connect or link existing data from e.g. merchandise management or your own store with eBay in order to have a central, one-time data maintenance. Order imports into other systems, as well as sales evaluations or follow-up processes such as invoice creation/printing or shipping label generation are also possible.
Alternatively, a connection is also possible via CSV files or Excel format for the eBay seller hub / cockpit.
---
Keywords
eBay, Middleware solutions, Automation, Listings, Add/Insert, Update, Interface, HTML Templates, Import/Export, multi-national/international, Shopping/Store, Shipping, Database, CSV/Excel, Shop systems, Logistics