HissenIT has reached more than 10,000 online students worldwide with in-depth IT security courses on Udemy
With more than 16 years of IT security and security training experience, HissenIT publishes also online trainings in the areas of application security, encryption and cryptography. Information technologies are the essential part of any business and a huge part in our private life. Hence, awareness of IT security on the technical level has become essential. Increased numbers of reports on cyber attacks and system vulnerabilities are one proof.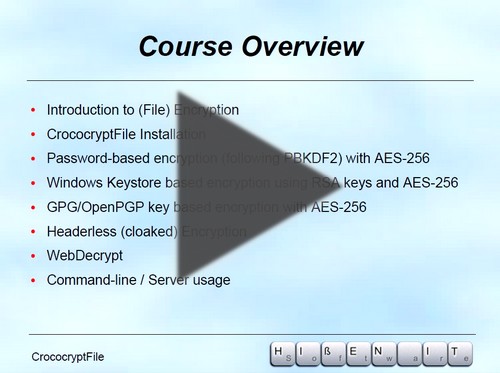 About two years ago we started publishing IT security courses online using Udemy. Although today we also use other additional platforms, Udemy is still the undisputed market leader when it comes to general audience reach. This week, we broke through the 10,000 students mark. According to Udemy, we are reaching people in more than 151 countries with the United States of America, Germany and India as top 3 shares.

At the moment, we are offering the following courses:
"Introduction to Encryption - Terminology & Technology" (English & German): A guide to today's encryption technologies, their terminology and best practices that includes symmetric and public key encryption as well as password-based encryption.
"Java Cryptography Architecture: Hashing and Secure Password Hashing" (English): A course for Java developers to learn how to implements secure hashing for web applications and backends as well as Android Apps.
"File Encryption Basics and Practices with CrococryptFile" (English): A course that includes an introduction to encryption as well as the characteristics of encryption on the file-system level and shows how to deploy the file encryption software CrococryptFile in a SMB environment.
The courses are distributed through e-learning platforms like Udemy and through licensing of SCORM packages for enterprise Learning Management Systems (LMS). Please contact us for any inqueries on SCORM packages!
If you do not find a course online in one of the established marketplaces, please simply contact us directly to discuss licensing as well as technical options. We also develop courses on request!
Among others, you can find our trainings for instance here:
Some of our courses on Udemy
Moreover, the free course "File Encryption Basics and Practices with CrococryptFile" is also freely available as offline and portable Windows app: Free download and more information here.
About
HissenIT is a small business company from Germany focusing on IT software development, programming and consulting. Founder and computer scientist Frank Hissen has over 22 years of experience in various positions in IT projects - today offering special services from experience in IT security, web application security and encryption solutions.
Keywords
Internet security, Computer security, IT security awareness, Cryptography background, Security Online Training, IT security courses, Encryption introductory training courses
Categories: News IT Security
---
Post your comment
Share
If you like this page, it would be a great thing if you share it with others: